We've tested and reviewed well over 500 laptops over the years, searching for the best of the best. But to earn the crown for "best laptop" in 2022, it needs to have it all: gorgeous design, killer performance, a productive keyboard, long-lasting battery life, and much more.
Each of the laptops below has been vetted thoroughly, whether it's an affordable Chromebook or a decked-out gaming laptop. Our pick for the best overall laptop, the Dell XPS 13, is the option we recommend to most people, but something from the list below should suit your needs.
Apple MacBook Air M1
Still the best MacBook
Pros
Apple's M1 blows Intel away
Phenomenal battery life
Excellent keyboard and touchpad
Rock-solid build quality
Simple good looks
Cons
Supports only one external display
Why you should buy this: It's the best laptop for college students and the best affordable MacBook for 2022.
Who it's for: College students and Apple fans.
Why we picked the MacBook Air M1:
The M1 MacBook Air is a nearly two-year-old laptop, yet it remains at the top of our list for the incredible value provided by this little MacBook.
The M2 MacBook Air is a flashier design. No doubt about it. It's more powerful too. But the M1 MacBook Air remains a mind-boggling good value for the amount of laptop on offer — that includes great performance, battery life, and much more. We won't begrudge for buying the admittedly solid M2 MacBook Air, just know that the M1 model is still the better deal.
Apple MacBook Air M1
Still the best MacBook
Dell XPS 13 (9315)
The best laptop under $1,000
Pros
Aggressive price
Very compact design
Great battery life
Comfortable keyboard
Display is bright and high quality
Cons
No headphone jack
Performance is lacking
Why you should buy this: It's the most affordable XPS 13 in recent memory.
Who it's for: Anyone who wants a compact, premium laptop.
Why we picked the Dell XPS 13 (9315):
There are two things you need to know about the Dell XPS 13 before buying one. First, it doesn't have a headphone jack. Second, its performance is a bit lackluster compared to many of the latest 12th-gen Intel-powered laptops.
But if you can set those two negatives aside, you'll find a gorgeous little laptop priced like none other. The $830 base configuration, which even comes with 512GB of storage, makes a lot of laptops on this list seem overpriced, especially considering how good the battery life and display are. That's even true sitting next to the M1 MacBook Air. It's a fantastic value — so long as you can accept the lack of a headphone jack.
Dell XPS 13 (9315)
The best laptop under $1,000
MacBook Pro 16-inch
The best laptop for photo and video editing
Pros
Incredible XDR display
Fantastic creative performance
Extensive port selection
Keyboard and trackpad are perfect
Excellent speakers and webcam
Endless battery life
Why you should buy this: It's the best laptop for photo editing or video editing you can buy.
Who it's for: Creative professionals who need a seriously powerful laptop.
Why we picked the Apple MacBook Pro 16:
The MacBook Pro 16 fixed a lot of the problems with the "Pro" line in the past few years. The Touch Bar is gone. Extensive port selection is back. It's even thicker and better cooled now.
But it's more than just an apology tour. The 120Hz mini-LED screen is the best laptop screen we've ever seen, especially when viewing HDR content. The M1 Pro and M1 Max, meanwhile, add discrete-level graphics to the incredible efficiency of the M1. Battery life is off the charts. The 1080p webcam and improved speakers are both best-in-class.
The price and performance mean it's not for everyone, though. The average person doesn't need more than the MacBook Air. But if you need a powerful laptop for content creation, the MacBook Pro is the best "pro" laptop you can buy.
MacBook Pro 16-inch
The best laptop for photo and video editing
Razer Blade 14
The best gaming laptop
Pros
Gaming performance is excellent
Colorful, 1440p display
Surprisingly small
Cheaper than Razer Blade 15
Great battery life
Cons
Warm surface temperatures
Thick bezels
Why you should buy this: It's the best gaming laptop you can buy in 2022.
Who it's for: People who want a fantastic laptop that can also game.
Why we picked the Razer Blade 14:
The Razer Blade 14 feels like it shouldn't be possible. Up to an RTX 3080 in a thin, 14-inch laptop? Yep, that's right. And it does it with some pretty impressive performance, too.
There will always be room for larger gaming laptops like the Razer Blade 15 or Lenovo Legion 5 Pro, but the Razer Blade 14 still feels like a miracle. It's the first AMD-powered Razer laptop, featuring the powerful Ryzen 9 5900HX. It also sports a 1440p 240Hz screen, ensuring that you're never bottlenecked by the display. Amazingly, the Razer Blade 14 does all this at a few hundred dollars cheaper than the Razer Blade 15.
But no, it's not the cheapest gaming laptop. Nor is it the most powerful. It is, however, the best overall gaming laptop you can buy.
Razer Blade 14
The best gaming laptop
Dell XPS 15 (9520)
The best Windows alternative to the MacBook Pro
Pros
Streamlined and solid build
Aesthetically perfect
Strong productivity and creative performance
Above-average battery life
Excellent keyboard and touchpad
Superior OLED display
Outstanding audio
Cons
Expensive
Performance ceiling limited by thin chassis
Why you should buy this: It's a great Windows alternative to the MacBook Pro 16-inch.
Who it's for: Content creators, first and foremost.
Why we picked the Dell XPS 15:
When you're editing video, you want plenty of space to view both the results and your favorite application's interface. But, if you're using a laptop rather than a desktop PC, then you want to be able to do your editing on the go. That's where larger laptops come in — they're powerful and, thanks to today's thin-bezel movement, highly portable.
Despite having a 15-inch screen, the overall size of the XPS 15 is far smaller than your average 15-inch laptop. That's thanks to the tiny bezels, of course. It even comes with four powerful Thunderbolt ports and a full-size SD card slot for convenient transfers directly from your camera. But the performance is what really counts for video-editing laptops. Between the 12th-gen Core i9 processor and an Nvidia RTX 3050 Ti, the Dell XPS 15 is one of the most powerful consumer-class content creation laptops we've ever tested.
Dell XPS 15 (9520)
The best Windows alternative to the MacBook Pro
Lenovo Chromebook Duet 3
$300 well spent
Pros
Good enough productivity performance
Excellent battery life
Surprisingly good display
Folio kickstand and keyboard included
Strong value
Cons
Keyboard is too cramped
Limited to Wi-Fi 5
Why you should buy this: It's the best laptop you can buy under $500.
Who it's for: Students, anyone who needs a small device.
Why we picked the Lenovo Chromebook Duet 3:
Laptops that cost $300 shouldn't be this good. Seriously. Most laptops you can buy at that price have serious deficiencies, like pitiful performance or awful 720p screens. That's often true, even on Chromebooks.
But the Lenovo Chromebook Duet 3 manages to deliver a great laptop experience, albeit on a very small device. But this little 10.9-inch is perfect for students or anyone that just needs a compact device to take on the go. The iPad is certainly a better tablet for this price, but if you need something to actually work on, this is the way to go.
Lenovo Chromebook Duet 3
$300 well spent
Microsoft Surface Pro 8
The best 2-in-1 laptop
Pros
Gorgeous, 120Hz screen
Impressive performance
Has two powerful Thunderbolt 4 ports
SSD is easily accessible
The Surface Slim Pen 2 is exceptional
Cons
More expensive
Still lacks mobile apps
Why you should buy this: It's the best 2-in-1 laptop you can buy.
Who it's for: Anyone who needs versatility on top of performance.
Why we picked the Surface Pro 8:
The Surface Pro hasn't changed much over the years. But with the Surface Pro 8, it received the upgrades it always deserved. With thinner bezels, a larger screen, and a redesigned stylus, the Surface Slim Pen 2, the Surface Pro 8 finally feels ready to take on the iPad Pro for all its worth. The Surface Pro 8 even features a 120Hz refresh rate to pair with its larger, gorgeous 13.3-inch screen.
The detachable keyboard and touchpad are as solid as ever, and the new Slim Pen 2 slot with its haptic feedback for creating a more realistic feel is downright clever. Using the device without the keyboard is no longer a huge pain thanks to Windows 11 improvements that make tablet mode more functional.
Microsoft Surface Pro 8
The best 2-in-1 laptop
Lenovo ThinkPad Z13
An incredible business laptop
Pros
Excellent battery life
Performance is impressive
Small footprint
Webcam is solid
Unique design
Why you should buy this: It's the best premium business laptop you can buy.
Who's it for: Students and those with basic computing needs.
Why we picked the Lenovo ThinkPad Z13:
Business laptops don't have to be boring, and the Z13 proves it. Not that you need to work for a big company to love what the ThinkPad Z13 has to offer. The Ryzen 6000 processor provides excellent performance, while the leather lid, 1080p webcam, and fantastic battery life add up to a laptop that you'll be hard-pressed to top.
It'll be especially hard at this price. Unlike many high-end business laptops, the ThinkPad Z13 isn't extravagantly overpriced, especially for a laptop of its kind.
Lenovo ThinkPad Z13
An incredible business laptop
HP Spectre x360 13.5
It keeps getting better
Pros
Elegant aesthetic
Excellent productivity performance
Rock-solid build
Superior keyboard and touchpad
Stunning OLED display
Surprisingly good battery life
Cons
Creativity performance is lacking
Slightly expensive
Why you should buy this: It's both stylish and performs exceptionally.
Who it's for: Anyone looking for a high-end Windows laptop with few compromises.
Why we picked the HP Spectre x360 13.5:
The HP Spectre x360 series of convertible laptops have long been among our favorites. But the Spectre x360 13.5 is the best of the line in a very long time. It brings together a unique yet elegant sense of style with high-end components such as a stunning OLED display and great battery life.
The only complaint is that it's a bit more expensive than we'd like, especially compared to new options like the Dell XPS 13 or the M1 MacBook Air. Still, it's the complete package — and sometimes, that's worth paying for.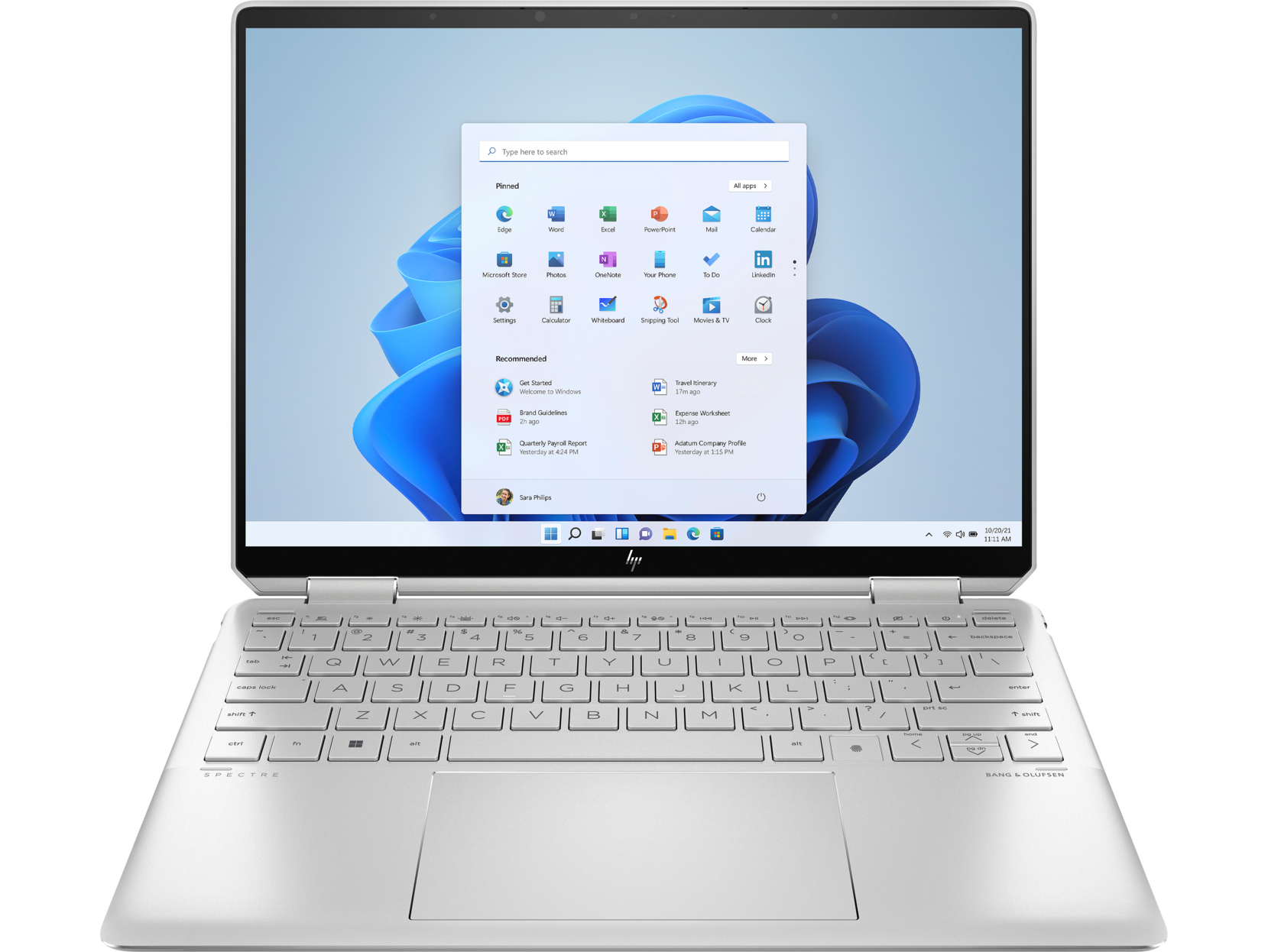 HP Spectre x360 13.5
It keeps getting better
Frequently Asked Questions
What's the best laptop brand?
Picking just one laptop brand as the best is a bit of a challenge lately. There are so many great laptops available today, and they come from several manufacturers. Hold our feet to the fire, though, and we'll have to pick Dell as the overall best. Dell seems invested in applying the latest materials to improve the performance of its laptops, and it's constantly coming up with new innovative designs.
HP is no slouch either. It, too, utilizes some unique materials and makes some customer-friendly design decisions, such as resisting the thin-and-light trend to pack in more battery capacity.
In terms of customer service and reliability, Apple carries the torch for its convenience. Its issues with its recent keyboards have been fixed, making MacBooks highly durable. Its customer service is top-notch.
What's a 2-in-1 laptop?
A 2-in-1 laptop is one that isn't limited to the traditional clamshell configuration. Instead, a 2-in-1 can convert from a clamshell into some form of tablet PC that allows for natural inking and media consumption.
The concept isn't brand-new — Microsoft sold a "Tablet PC" version of Windows as far back as 2001 that supported pen input, but it never caught on. As electronics have gotten more powerful and fit into smaller chassis, and capacitive touch and active pen technology have improved, the modern 2-in-1 has emerged. Microsoft kicked off the form factor with its Surface line in 2012, and most manufacturers followed with their versions.
Today, you can pick from among a variety of different kinds of 2-in-1s. The most popular types are the tablet with a detachable keyboard, epitomized by the Microsoft Surface Pro 8, and the 360-degree convertible where the display flips around to turn into a (usually larger) slate.
The main advantage of the tablet 2-in-1 is portability — tablets are extremely thin, light, and easy to carry around — while they also work the best for drawing and taking notes on the pen-enabled display. The 360-degree convertible 2-in-1, on the other hand, isn't quite as handy as a tablet but it tends to work better in clamshell laptop mode — especially when using it on the lap, where it's more stable than most detachable tablets.
What processor should I buy?
The most popular CPUs for laptops today are Intel's 12th-generation 12th-gen Alder Lake CPUs processors that have adopted a hybrid design of Performance and Efficient cores that intelligently take on tasks based on demand. There are a variety of 12th-gen Intel chips on the way, but right now it's the 28-watt P-series and 45-watt H-series chips that are actually shipping in laptops. For most productivity Windows 11 users, we recommend a minimum of the Core i5, which is a highly capable processor that can handle most productivity tasks without slowing down. It's also efficient, meaning you'll enjoy great battery life. If you skip back to older generations of Intel processors, you'll find slower clock speeds and fewer cores at your disposal, meaning you may run into bottlenecks while multitasking or running multi-threaded applications.
But Intel isn't the only game in town. AMD released its Ryzen 6000 series processors, which significantly increase speeds over its Ryzen 5000 series. It's likely that the H-series, specifically the 45-watt Ryzen 7 6800H, will compete strongly with Intel's 12th-gen chips just as the Ryzen 7 5800H was competitive with Intel's 11th-gen. We'll have to wait for more benchmarks to be sure.
Chromebook running on Google's more efficient Chrome OS can utilize slower processors and still perform well, such as an Intel Core i3 or even a Pentium processor. Not many Chromebooks bother with the fastest Core i7 CPU.
If you're looking for a gaming or content creation laptop, we recommend ultra-power H-series CPUs, whether Intel or AMD. You'll find these in laptops ranging from the Dell XPS 15 to the Razer Blade 15.
How much RAM do I need?
The sweet spot for memory for both laptops and desktops is 8GB. You can check out our explainer on how much RAM do I need for the details. But generally speaking, 8GB will suffice whether you're running Windows, MacOS, or even the more lightweight Chrome OS. And, it will provide plenty of headroom for multitasking and more demanding applications. If you're doing high-end photo, video editing, or gaming, then we recommend 16GB (or more).
Should I buy a laptop or a tablet?
As we mentioned above, you can get a tablet that can morph into a laptop just by attaching a keyboard. And so, if you really want the power of Windows in a form factor that's easier to carry around, then you can select a tablet 2-in-1. With the advent of Windows 11, it's finally starting to become a better software platform for tablets. If you want the utmost in simplicity and an even smaller device, then a pure tablet like the iPad can be great for web browsing, triaging email, consuming media, and other tasks that don't require the full power of a "real" PC.
So, where doesn't a tablet work? If you're a hardcore gamer, need a laptop that can churn through video and huge photos, or do a lot of multitasking. Tablets are very thin and tend to use slower CPUs and integrated graphics that won't accelerate creative applications or power modern games. Meanwhile, the software on these devices isn't as full-featured as a desktop operating system like Windows 10 or MacOS.
Should my laptop have USB-C?
The short answer is: Yes, you should try to pick up a laptop with at least one USB-C port. This is the latest in connectivity that ensures that you can connect to legacy devices (via adapters) while being covered for future devices as well. USB-C can provide for data transfer, power, and display connections, and USB-C hubs can greatly extend how many peripherals you can easily connect to your laptop.
The good thing is that laptops, even budget models, increasingly include USB-C. The longer answer is that not only do you want USB-C, but you want ports that support the even more powerful Thunderbolt 4 standard. Thunderbolt 4 provides up to 40 gigabits per second (Gb/s) over a single connection and 32Gb/s PCIe data transfer, which is twice the bandwidth of Thunderbolt 3. It can support multiple 4K displays and external GPU enclosures that can greatly improve graphics performance.
Editors' Recommendations